My first short story collection, Burning Days, is now available for order from Nanopress.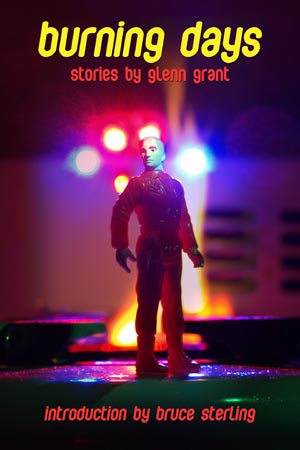 Burning Days collects six stories, five previously published and one new work written just for this book. Most are cyberpunkish near-future noir-SF, one is an alternate history story set in WWI Halifax, and one is a hard-SF horror story set in space.
The introduction is by Bruce Sterling — and it's a blast, very funny and insightful.
"Grant's work paints a future that is odd (and oddly stylish), often (intentionally) funny, and sidewise." — Cory Doctorow
"Gleefully wicked fiction! Grant is a bricoleur at play in the pre-and post-apocalyptic fields of our self-destructive, ineluctable global catastrophe." — Paul Di Filippo
"Brilliant! Wonderful prose, nice world-building-in-teensy increments."
— Peter Watts
The contents:
"Memetic Drift"
"Storm Surge"
"Flowers of Avalon"
"Thermometers Melting"
"La Demoña"
"Burning Day"
For the moment the book is not available in most bookshops, and not on Amazon; you can order it through the Nanopress website (nanopress.ca). We hope to do electronic editions, and maybe a audiobook version, but for the moment it's only on paper.
I do hope you'll check it out.